Our friendly team at Liesen, Pinzl, Kessinger Dental, LLC is excited to meet you! We love helping patients of all ages improve their oral health and smiles with quality dental care in Woodruff, Wisconsin. Call 715-356-3474 today to make an appointment with our dentists, Dr. Christine Liesen, Dr. John Pinzl or Dr. Lauren Kessinger, and find out more!
Lori joined our team in 2001, and she enjoys being part of a small, patient-focused practice instead of a corporation. She is always willing to learn anything and take on new tasks.
Lori and her husband have lived in the Northwoods for over 32 years and love the outdoors, especially the winter. In their free time, they enjoy going for rides and exploring new areas with their rescue dog, Little Girl.
After working in oral surgery for 23 years, Becky joined the LPK Dental team in October of 2022. Becky loves the interaction with patients at LPK and strives to make them comfortable. She enjoys working in a team oriented practice.
Becky and her husband have been married for over 30 years, and they enjoy spending time together with their two grown sons, especially at the family cabin. Outside of work, Becky enjoys camping, nights around the campfire with family and friends, game nights, spending time at the lake and UTV-ing.
Sarah
Registered Dental Hygienist
Sarah graduated from Nicolet Area Technical College in 2016 with her Associate of Science degree in dental hygiene, and she joined our team in March 2020. She enjoys being part of a fun, team-oriented environment. Sarah starts each day with the goal of treat her patients like family and constantly analyzes their oral health to determine the best way to treat their needs.
Sarah lives with her husband and their two cats and three dogs.
Kayleigh
Registered Dental Hygienist
Kayleigh graduated from Vermont Technical College in 2009 and has continued her dental hygiene education to provide many other services to her patients including local anesthesia, nitrous oxide sedation and diode laser treatment. She strives to make every patient's visit a positive and comfortable experience. Kayleigh is also an orofacial myofunctional therapist and is trained to provide patients with an individual exercise based treatment system to improve and correct oral muscular dysfunction of the face, lips, tongue and soft palate.
Outside of the dental office, Kayleigh can be found spending time with her husband, Dustin, and their two dogs. She enjoys all things outdoors including camping, hiking, cross-country skiing and standup paddleboarding.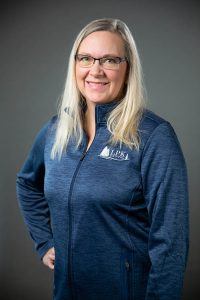 Carie
Registered Dental Hygienist
Carie attended Northeast Wisconsin Technical College in Green Bay, Wisconsin. She is laser certified, and she enjoys being part of a great team whose goal is to provide excellent dental care and education to our patients. Carie and her husband, Chris, have three daughters and three granddaughters. In her spare time, she enjoys camping, hiking, boating, and spending time with her family.
Jan
Registered Dental Hygienist
Jan moved to the area and started working at our office in Janurary 2022. She graduated from Milwaukee Area Techincal College in 1987. Jan loves her patients and teeth, making connections and improving smiles and health. She helps our office be succesful by communicating with patients about their options for oral health and cosmetic care and giving them a reason to return.
Jan has two daughters, two granddaughters and a dog. Outside of the office, she enjoys teaching yoga, traveling, gardening, kayakking, cycling and cross-country skiing.
Mary
Certified Dental Assistant
Mary has been a dental assistant since 1988. She enjoys staying up to date with continuing education courses. In 2011, Mary earned her certification in dental assisting from the Dental Assisting National Board. In her spare time, she enjoys outdoor activities with her fiancé, three children and grandchildren.
Teri joined our team in July 2008. She has completed additional training to become CEREC-certified in 2015 and phlebotomy- and PRP-certified in 2018. In 2018, Teri also joined a Jamaica dental mission to provide care for underserved patients. Teri enjoys the family atmosphere of our practice and the ever-changing and advancing technologies.
Teri and her husband, Cory, have been married for over 20 years. They have two children, one son and one daughter. Outside the office, Teri enjoys reading, spending time at the family cabin and watching her son play hockey.
Pam joined our team in October of 2022 as a dental assistant with on-the-job training. She has worked in oral surgery for the past 16 years. Pam enjoys working with patients and her coworkers.
Pam and her husband, John, and two children, Kayla and Jake, are long-time residents of the Northwoods. She enjoys spending time with her family, boating, camping, UTV-ing, snowmobiling and listening to live music. In her free time, she also decorates cakes and cookies.
Hours
| Day | Hours |
| --- | --- |
| Monday | 7:30 a.m. - 4:00 p.m. |
| Tuesday | 7:30 a.m. - 4:00 p.m. |
| Wednesday | 7:30 a.m. - 4:00 p.m. |
| Thursday | 7:30 a.m. - 4:00 p.m. |
| Friday | Closed |
| Saturday | Closed |
| Sunday | Closed |
Have questions?